YoCierge is continuously working to better serve your needs, giving you access to patient records when your law office needs them. Our recent ISO 22301 certificate shows the importance we place on ensuring our services are always available when you need them.
New ISO 22301 Certificate Complements the Current ISO 27001 and SOC2 Type2 Certificates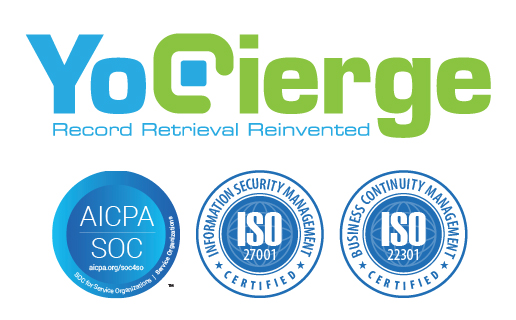 This new ISO 22301 certificate complements the other certificates that YoCierge already has. Each of our certificates proves our dedication to high standards. Refresh your memory on some of the other certificates that we already had before this most recent addition.
A Refresher on the ISO 27001 Certificate
To receive the ISO 27001 certificate, an organization must meet certain standards for information security management systems. The certificate indicates that its holder is legally compliant, and the information provided is available, confidential, and has integrity.
Any personal or private information should always be held with a storage solution that is ISO 27001 certified. It is recommended for both employee and client information. It should go without saying that medical information, such as the records you retrieve via YoCierge, also needs this high level of security.
A Refresher on the SOC2 Type2 Certificate
SOC 2 certifications also deal with the security of information. SOC 2 outlines how companies should manage customer data, following five trust service principles. These are security, processing integrity, confidentiality, privacy, and availability.
The fact that YoCierge has the SOC 2 certificate indicates that we meet or exceed the standards in all these areas. This certification should be a minimum requirement for any software provider you consider, but it is especially important when handling sensitive information. As mentioned, medical records are filled with the most sensitive information, making this an essential certificate for any medical record retrieval software.
What Is an ISO 22301 Certificate?
You will notice that the ISO 27001 and SOC 2 Type2 certificates that we already had focused on both security and availability. The ISO 22301 certification focuses specifically on continuity management, i.e., availability of systems and information at all times.
The ISO 22301 is the business continuity management (BCM) international standard. The International Organization for Standardization (ISO) created it to help organizations handle unexpected or disruptive events. It outlines standards to help them prepare for and prevent these events. It also offers standards for responding to and recovering from these events if they occur.
As such, an ISO 22301 certification is a simple way of confirming that an organization or company will be able to maintain its services even in changing circumstances or when facing challenges. YoCierge is proud to have this certification, as it shows our resilience and dedication to always providing you access to our medical record retrieval services.
Best Practices
The ISO 22301 certification document is over 20 pages long, but the following are some of the best practices you can expect from certified organizations:
Avoiding silos among departments
Having a business continuity champion with access to resources and leadership
Covering risk analysis as well as business impact analysis
Providing sufficient resources
Ensuring key process owners participate in the system
Importance of ISO 22301 Certification in the Current Environment
Some of the importance of ISO 22301 certification is straightforward. Choosing a company or software provider that has this certification gives you peace of mind that their services will be able to handle unpredictability.
Importance During the Pandemic
While that stability and continuous service have always been important, it is even more crucial in recent years. The pandemic is a perfect example of this. The pandemic was highly disruptive across nearly every industry. Even industries not affected by supply chain shortages had worker shortages or had to quickly adapt to work-from-home models. Many service providers experienced downtime due to reduced staff. But the risk of this happening is significantly reduced with an ISO 22301 certification.
Of course, the pandemic also directly affected medical record retrieval. As part of the healthcare industry, medical records and related services were overburdened. The limited resources within healthcare were not necessarily directed at maintaining records; they were focused on treating patients. On top of that, medical records had to quickly expand to include details on an entirely new virus, from patients' vaccination records to test results to treatment.
Importance During Climate Change Events
But the pandemic is not the only recent issue that can disrupt businesses and services. Climate change events are another growing concern, especially as these events become more frequent. Floods, wildfires, and other severe weather conditions can easily destroy data centers or offices where teams are working.
Companies have to be resilient and have multiple backups to continue offering their services in these changing times. Even if a company isn't in an area that has been affected by climate change events yet, that can quickly change.
The ISO certification provides peace of mind. It indicates that your service provider, like YoCierge, has backup systems in place and is ready to handle most situations.
It Gives You Peace of Mind That Potentially Disruptive Events Won't Disrupt Service
Simply put, choosing a service provider with an ISO 22301 certification gives you peace of mind that even if a disruptive event occurs, the services it provides won't be disrupted. Traditionally, this was in regards to concerns like theft, fire, vandalism, data breaches, or cyberattacks. But now, climate change events, the pandemic, and similar large-scale issues are a growing concern.
You know that any organization with an ISO 22301 certification is following best practices or exceeding them. That should provide peace of mind that they will continue to provide service throughout these events.
YoCierge Was Open and Operational Throughout the Entire Pandemic
YoCierge is an excellent example of the reliability and peace of mind you get from an ISO 22301-certified company. We remained open and operational throughout the entire pandemic. We did not have a single day of interruption, and this was true during every single phase of the pandemic.
To understand the impact of that availability and uptime, remember all the challenges that the pandemic brought. And consider that very few medical record retrieval companies managed to do this.
Challenges We Had to Overcome
Consider some of the challenges we had to overcome to stay open and operational throughout the entire pandemic.
Workforce considerations were among the biggest issues, especially early on. We had to quickly adapt to have employees work from home when possible without sacrificing our efficiency or productivity. This was possible because of past preparations.
On top of that, the pandemic brought unexpected absences throughout all departments, just like it did with every other job in every other industry. But our policies and preparation allowed us to quickly adapt. Our team members were able to fill in temporary gaps from absences to continue providing our services.
Like every other industry, we also faced supply chain challenges. As a digital service provider, we rely heavily on technology and keep supplies on hand to replace or repair equipment when necessary. This became crucial during the pandemic when there were supply chain shortages and we couldn't necessarily count on receiving replacement parts or equipment in a timely manner. Our preparation meant that we were able to overcome this.
Unique Challenges for Medical Record Retrieval
Those challenges are similar to the ones that every industry faced. But the fact that we provide medical record retrieval means that our services were close to the center of everything. As mentioned, medical records started to include more information due to COVID. Many people were tested multiple times, and most had COVID at least once. Treatments, testing, and vaccination records all changed the previous content of medical records.
Due to these changes, YoCierge had to ensure that our existing systems could still function properly with the new information in records. Thanks to our planning and continuity strategies, this was much easier than it could have been. Our record retrieval and organization system was ready to adapt to include the new information.
Other Benefits of ISO 22301 Standards for You
In addition to the peace of mind that comes from working with a company like YoCierge with the ISO 22301 certification, you will get to take advantage of a few other important benefits.
Comply With Legal Requirements
As a legal professional, you understand the importance of complying with all legal requirements. The regulations regarding ISO 22301 and which businesses must have certification are constantly changing. By choosing a service that is already ISO 22301-certified, you prevent any future legal complications. If laws requiring you to use services with this certification go into effect, no changes are needed on your end.
Gain a Marketing Advantage
Your clients place a great deal of trust in you. They are trusting you with one of the most important aspects of their health and finances. You likely already make other efforts to earn that trust, such as providing client satisfaction, online reputation management, and general marketing efforts.
But using an ISO 22301-certified company for record retrieval adds yet another layer of trust between you and your clients. You can advertise this as another reason for your clients to trust that you will be able to stick to your promised deadline. You will not be delayed due to a delay in medical record retrieval.
While you are at it, you can get a similar benefit from our other certifications. The fact that those certifications highlight the security of our data and systems will give your clients peace of mind about their records. The knowledge that you make efforts to keep their records out of unauthorized hands adds to their trust in you.
Reduce the Need for Backup Plans
Every company should have backup plans in place. After all, that is part of business continuity management. But by choosing a company like YoCierge with ISO 22301 certification, you can reduce your reliance on these. Your plan B will still be there in the extremely unlikely event that something happens, but you likely won't have to use it.
Instead, you can continue your processes as normal. This is crucial for your efficiency as well as for avoiding errors. It also simply gives you one less stressor to worry about.
Prevent Disruptions
What if you don't have a backup plan or that backup plan fails? You could experience business disruptions and not be able to properly serve your legal clients. But with an ISO 22301-certified company, this is much less likely to happen. You are unlikely to ever need to use your plan B, so you won't give it an opportunity to fail.
That is crucial as any disruption to your business can have significant financial effects. Maybe your clients will choose another lawyer or office to work with. Or maybe you will not be able to represent them as effectively, reducing their compensation and therefore your compensation.
Of course, the ability to prevent disruptions also has a significant impact on your reputation. If potential clients know that you deliver uninterrupted service, they are more likely to choose you. And while YoCierge can't prevent your team members from calling out sick or your internet going out, our ISO 22301 certification means that we actively prevent disruptions from being unable to access medical records.
Conclusion
YoCierge recently received our ISO 22301 certification. This certification shows that we follow all the best practices for continuity management. In other words, our services are incredibly likely to be available at all times, even with unexpected events that would disrupt other businesses. In addition to our certification, we have already proven our resilience and adaptability by not having a single day of interruption to our service during the pandemic, something few other companies in medical record retrieval can say.
While we already had best practices in place, we became certified to give you a simple way of confirming that our services will be available when you need them. This, combined with our reputation for remaining operational in even the most challenging of times, should give you peace of mind when choosing our services.